Transcript
Research suggests that 10% of children are victims of bullying and 5% of children are involved in bullying others.
Defined as 'repeated aggressive behaviour intended to harm, and involving an imbalance of power', being bullied can feel like an unending nightmare to a child
who is being targeted.
So who is likely to be a bully, and can we predict who is more likely to be bullied?  What are the gender differences?  And what about cyber bullying?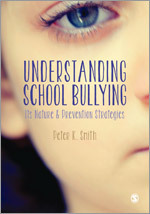 In this podcast, Emeritus Professor Peter K Smith of Goldsmiths, University of London talks to Pod Academy's Craig Barfoot about his book, Understanding School Bullying, Its Nature and Prevention Strategies, he explains what forms bullying talkes and what parents can do to help.
You may also be interested in our podcast on Young Girls Friendships, which explores the often worrying dynamics of girls' friendship groups.
Featured photo by Thomas Ricker
Tags: bullying, Cyber bullying