Transcript
We've got to beat global warming within 50 years, and renewables are the way to do it according to Professor Keith Barnham of Imperial College, London, author of The Burning Answer, in this conversation with Dr Radu Sporea of Surrey University's Advanced Technology Institute.
Photovoltaics should be at the heart of our energy generation, says Prof Barnham, – even on a gloomy English afternoon, he reckons he can heat all his hot water from solar power.
Professor Barnham, who has worked at Cerne and Berkley,  is a leading researcher and developer of silicon solar cells and, for a while, his team held the world record for the most efficient version of this rapidly improving technology.  Despite the naysayers, he is confident that renewables can deliver, if we are prepared to invest in their development.  It is about action, decision, attitude, a global effort is needed.
That global effort needs governments and scientific establishments to invest, says Prof Barnham.  But he believes we can all do something – switch to all renewable electricity suppliers, use ground source heat pumps, and get involved in one of the growing number of local action groups producing their own electricity.
We have produced a separate short podcast, Nuclear, a safe bet?, drawn from the same interview between Keith Barnham and Radu Sporea,  specifically looking in more detail at nuclear power.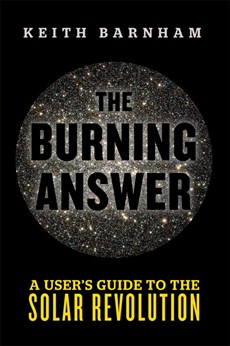 The Burning Answer by Keith Barnham
…"cuts through the current morass of fossil-fuel and nuclear lobbyists' negative propaganda with a clear and original vision for solar power."  (
Review in The Guardian
)
Tags: Nuclear power, Professor Keith Barnham, Renewable energy, Renewables, Solar power, The Burning Answer, Wind power