Transcript
If you have seen the film, Pride, about the involvement of lesbian and gay activists in the UK miners' strike of the 1980s – or even if you haven't – you will find this discussion that took place at Birkbeck, University  of London, hosted by  BiGS (Birkbeck Gender & Sexuality) and The Birkbeck Institute for the Humanities  fascinating.
The event was called Pits and Perverts Revisited, a reference to the benefit ball organised by LGSM (Lesbians and Gays Support the Miners), at which the line up included Bronski Beat.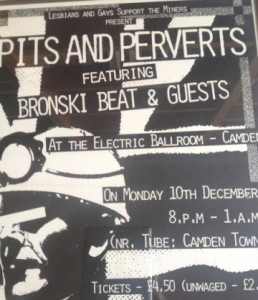 The discussion starts with the making of the film and goes on to look at the politics of the Thatcher era when, as Mike Jackson says, you had to be a "very brave person indeed" to declare your homosexuality.  It explores the legacy of the Miners strike and the relevance of LGSM to today.
The first section brings together Mike Jackson and Sian James MP, both active in the strike and featured in Pride.  It is chaired by Daniel Monk.
In the second part of the event,Diarmaid Kelliher of Glasgow University focuses on the politics of the 1970s and 1980s and explores the culture of solidarity that was so important in the strike and beyond.
In the final section, Bev Skeggs, Professor of Sociology at Goldsmiths, University of London 'commits a sociology' as she considers the 'enemies within'.
…………………….
A couple of years ago, we carried a blog by Chris Creegan which also considered the legacy of that period (Margaret Thatcher had just died). It carried a picture of Chris's copy of the Pits and Perverts poster, one of the few still in existence, and reflected on Chris's own experience as a gay trade unionist and how Thatcher's triumph on the economic front contributed to her defeat in the social arena.
………………………….
One of the most moving parts of the film Pride was Bronwen Lewis singing Bread and Roses – and here it is……
Tags: Birckbeck University of London, Birkbeck, Lesbians and Gays support the Miners, LGSM, Pits and Perverts, Pride, Pride the movie