Tanjil Rashid
Tanjil Rashid is a producer at Pod Academy, with interests in culture, media and the Middle East. He has also written for the likes of The Guardian, Prospect & The White Review and worked for the BBC on Newsnight and the arts strand Arena.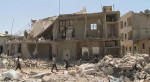 A guide through the Syria conflict with one of Britain's most experienced foreign correspondents…
More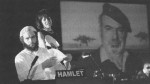 Shakespeare in the Arab world, from a production off the coast of Yemen within Shakespeare's lifetime to an early Egyptian Hamlet that is a musical with a happy ending.
More